| | | | | |
| --- | --- | --- | --- | --- |
| [ | mood | | | melancholy | ] |
| [ | music | | | Somewhere Over the Rainbow (Adam Sandler's version) | ] |
To all who are close to me, you know we have a Dalmatian named Fonggo. Well he died last Sunday. Though, it was not Bruce's first dog. It was Hotdog and she was a mix breed of Dachshound and Japanese Spitz given by long time family friend of the Dacaimats, the Laher family. Though, not a pure breed, hotdog was a beautiful dog. And it is a dog that Bruce loved so much. Well, he loved Fonggo, too but not as much. Let me tell you the story why.

I can never forget the day I brought hotdog almost three years ago. Bruce was turning two then and I was about to start my new job at People Support. If I remember correctly, that was a Sunday. I came from Tita Pinky Laher's house and peronally handpicked hotdog for Bruce. She was a cute little puppy that I held in my arms and shielded her from the sun. I grew up hating dogs. And that day I really couldn't say that I was having fun bringing this dog home to my son. Of course, for the love of mama I made the sacrifice of carrying the smelly fuzz ball (because she still cant take a bath yet) all the way home. Home was about three long blocks from Tita Pinky's house. And finally, was home and yelled for Brusko from the garage. His yaya Net-Net came from the front door with Bruce tagging along. I presented the puppy to him, and his eyes, oh I couldn't forget my son's brightly lit and very small eyes, (his eyes becomes squinty, ala Bong Revilla when he smiles :)]and the his face and the hug he gave me, "Mami, wow doggie! thank you!!!" Although, like any mischievous child Bruce was on the playful and hurtful side to hotdog. But he loved her no questions asked. And hotdog loves him equally. Despite all the physical abuse she never ever tried to bite Bruce. Here is how I found out and was able to prove it. When Fonggo came to our family.

It was through our friend Long, a Pitbull breeder that we first met Fonggo. He got him from a hard up friend for Php 1,500 with papers. It is real cheap for a Dalmatian breed and Fonggo was even handsome than the 1001 Dalamtians. He was from Australia. Dan loved Fonggo at first sight. His fur, his spots and his affection. We later found out that Fonggo's former owners was a mother and son crack-addicts team. So, since his owners do not eat and sleep everyday because of crack addiction, he also did not eat and sleep and he was also maltreated ever since he was born. And finally, just for them to be able "score" some crack they sold Fonggo to our friend Long for that amount. Now, Fonggo was beginning to be a threat with the Pitbulls. Yeah, ironic isn't it? He bit one of Long's prized Pitbulls. It was time for Fonggo to go. So, after long negotiations Fonggo was sold to us for Php 1,000. Dan was so happy when he brought Fonggo home. Bruce was not so happy and punch him on the side. Fonggo is a loving and submisive dog. He craves for attention, love and pampering. So, whenever Bruce maltreats him he never become defensive. No, remember hotdog? Bruce's first dog? She was not that happy she would also try to pick a fight with Fonggo. And hotdog had an ally with Brusko. But Fonggo and Hotdog soon became friends. and the fights became playtime. Up until when we transfered to a small apartment. Well it was small compared toour first house. The dogs were messy in the house so I would ask Net-net Brusko's yaya to tie them both at the back of the kitchen. Then the freak accident happened. Since they always in a playful mood their leashes were tangled and Fonggo's leg came in tanggled with Hotdog's collar. It must have been painful for him while Hotdog was slowly choking. By instinct he was biting Hotdog's collar that also contained his neck or his jugular vein. I couldn't control the chaos and for the first time Fonggo was venemous to me--whom he used to be very scared. Hotdog was not giving up her life that easy she also fought with Fonggo but for her life as well. Slowly, I saw her life leave her tired body. And when the last breathe left her it was so sad that both dogs became loose from their entanglement. Fonggo suddenly came back to his old self and realized his best pal was killed, by himself. After the most unfortunate incident, Brusko was violent to Fonggo and for the very first time I saw my tot was so angry, I could still remember him say, "Murderer! You killed my dog!" with so much vengeance. For a few days that was all we could hear from Bruce and ever since then he was violent and indifferent to Fonggo up until the day he found him dead on our garage.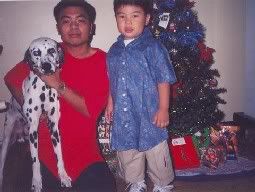 We were still sleeping and Brusko was the first to get up that Sunday morning. He was going out of the house to go to sari-sari store in front of our house to get some breakfast when he couldn't open our gate because a stiff Fonggo was blocking the gate. He went upstairs to our bedroom and woke us up and told his dad, "Fonggo, dadi nakaharang sa gate patay na di ako makalabas". That was it. It was Dan who was emotional about it. When I ask him if he was sad that Fonggo is now in heaven, she just shrugs his shoulders and reply, "He is not my dog, bakit ako magiging sad. Si Hotdog sad ako nung pinatay siyia ni Fonggo."

As for me, Fonggo was the first dog to teach me how to love and not hate dogs. He was protective, loving and always wanted to be fondled. I will never forget him. If there is really a heaven for dogs I wish you are there now and happy with no pain both physical and emotional. Goodbye, Fonggo.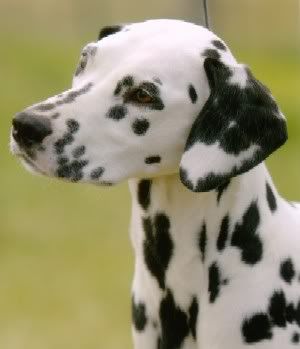 ♥♥♥